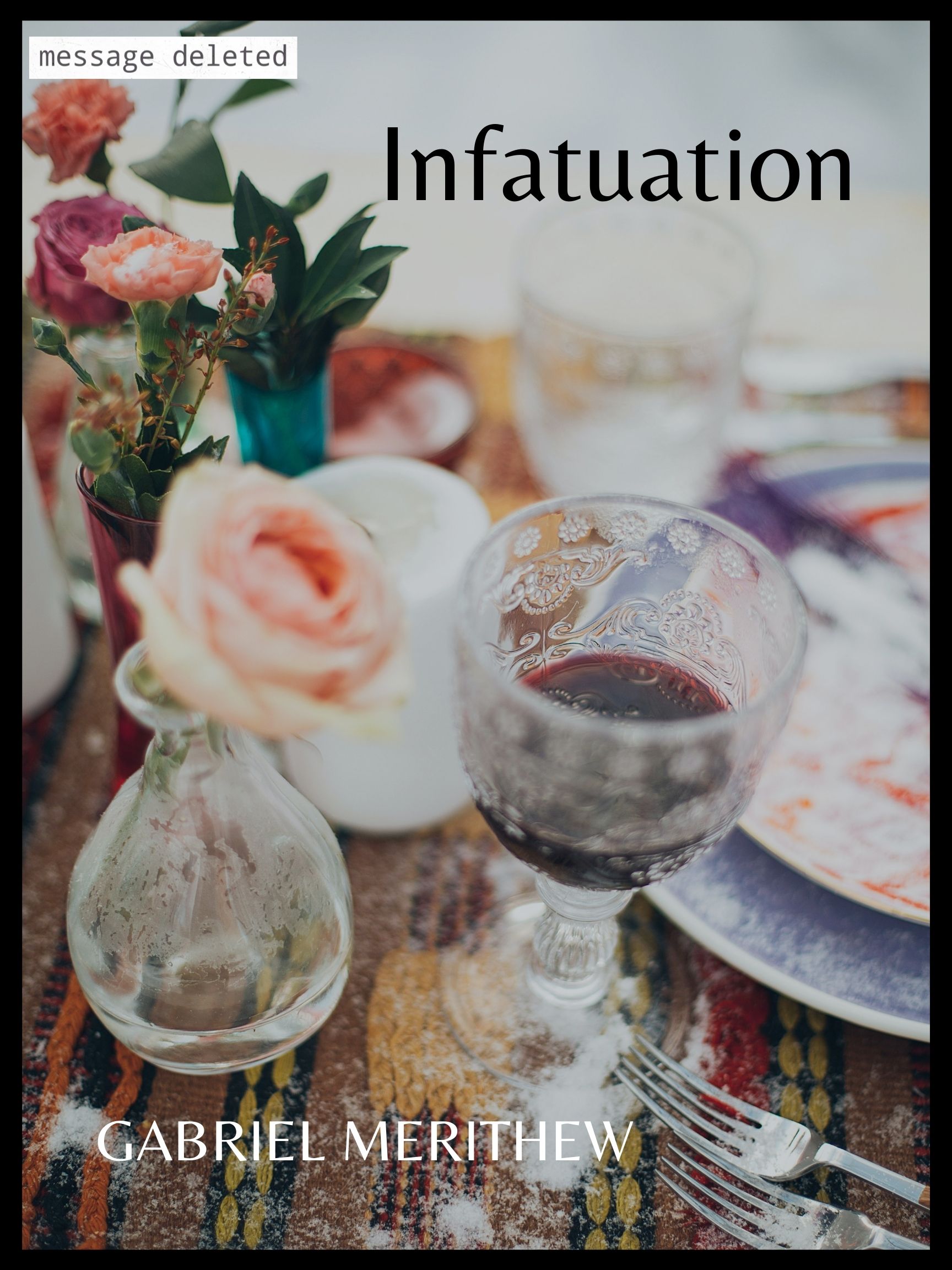 Description:
A first-date turned foul, leads to a happy life together, begging the question of how this man could've fallen under his wife's spell.
Infatuation
by Gabriel Merithew
There was a man once, somewhat cool-ish,
Who got wrapped up in something foolish.
Late one night while he was out walking,
He met a woman and they got to talking.
It was going fine, they grabbed a bite,
But soon she gave him quite a fright.
He thought to himself "What a crazy witch."
When she acted and spoke like a total bitch.
There was absolutely no way in hell,
He would ever fall under this woman's spell.
"I must go to the bathroom." He said in response,
As his hopes for a new girlfriend drained all at once.
He returned to their table after a few,
Looking like he'd come down with the flu.
"It is quite late now, I must away,"
"It's not a large bill, why don't you pay."
But as he turned, ready to march out,
He noticed the woman's pitiable pout.
"Look, I'm sorry." He said with pity.
"I just don't find you all that pretty."
The woman looked him square in the face,
And his heart began pounding at a rapid pace.
He almost regretted being so rude,
His hurtful words had been quite crude.
But she spoke to him in a most soothing voice.
To comply with her request he had no choice.
"That's perfectly fine, but before you go,"
"Do try a sip of this Chateau Margaux."
He sighed and frowned, but picked up the glass,
Somehow, this request he just couldn't pass.
"Just a sip, then I'm out the door." "I don't wanna look at you anymore."
"Earlier this eve, I thought you a sight,"
"But now everything about you fills me with fright."
Taking a small sip, the effect was quite quick,
There was only one woman he could ever pick.
Looking up in amazement, he now saw her beauty,
(And very much wanted to squeeze her soft booty).
"My lady, how could I have been so wrong?"
He knelt down and serenaded her with a song.
Many months later, his love was still intense.
His affections for that woman, simply immense.
They lived together in a small house,
That he now crept through as quiet as a mouse.
His lover right now thought him to be gone,
But he had a plan and was feeling turned on.
And like the pathetic little creep, he now was,
He wanted to spy on her, just because.
But when he peered through the keyhole,
He saw a small group of oddly-dressed people.
They were moving around, doing a kind of dance,
And also reciting the most peculiar of chants.
The man still didn't really know why,
He'd fallen for this woman like no other guy.
But there she was, dancing there too,
Moving like she needed the loo.
Like that first night, he had eyes only for her,
The candles lighting her face a lovely amber.
It was endearing to see her wielding that knife.
He would very soon make this woman his wife.
And to see her stirring that giant pot,
Make his face go nice and hot.
Her nose was a bit different now, a little hooked,
But still a stunning vision of beauty she looked.
And then there was that pointy hat.
Never before had he noticed that.
But it didn't matter, she still looked nice,
Even though her hair was squirming with rice.
He spent the night just watching his boo,
Eyes stuck to her like Gorilla Glue.
The lovestruck man just sat and stared,
Feeling the luckiest to have been paired,
With such a fine woman, and not a bitch,
And it never occurred to him she was a witch.
The End